© SecuriCode Ltd – All rights reserved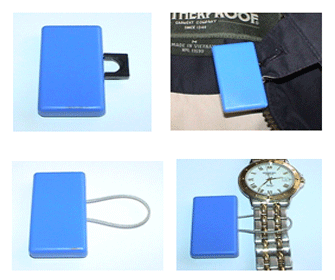 Retail Tags are used for automatic inventory, check-in / check-out location, movement and tampering.
Detachable steel staple or coated steel wire loop passes through item.
Removing or cutting the staple or loop (in a changing room for example) triggers a tamper alarm (visual in the Atlas application and audible / visual at the Node) indicating the item and the location.
Staple / loop removable by sales staff.
4-5 year lifetime (moving 10%). 39mm x 19mm x 6mm (L x W x D). 9g
No manual scanning is required (a significant labour saving when goods are distributed from warehouses / around stores etc).
The solution is long range (assuming sufficient Nodes / readers exist then there are no blind spots in stores).
Merchandise inventory and location is real-time and can be seen by individual store or all stores (via browser-based applications).
Tags are reusable / re-assignable to new items (not lost at the point of sale which is a substantial cost for some retailers).
Tag batteries are long life (with a garment that say moves 10% of its time in a store then a lifetime of 4-5 years).
Tags are relatively low cost (on average the cost of protecting 1000 items of merchandise is £0.01 per item per day) and batteries can be replaced by SecuriCode at end of life.