© SecuriCode Ltd – All rights reserved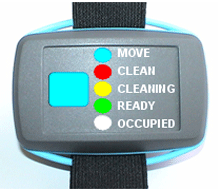 State Tags allow an alert to be signaled to indicate the status of an asset (an unoccupied bed in a hospital for example) or an asset that requires attention (e.g. servicing). The alert status is controlled by a switch on the State Tag
The status is passed to the Atlas application which then allows a hospital administrator for example to see the occupied and unoccupied beds, their state of readiness and their location in real time.
A Velcro strap or high-bond tape allows the State Tag to be affixed to assets.
78mm x 48mm x 20mm (L x W x D).
50g including battery. IP40.
Average battery life 4-5 years.
Subject to minimum order quantity