Mobile CheckPoint
© SecuriCode Ltd – All rights reserved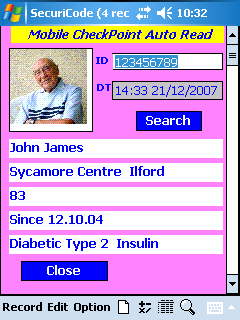 The SecuriCode Mobile CheckPoint application provides a Database, Asset Administrator and Display for the SecuriCode Mobile Reader.
Stand-Alone (Asset details are configured on the Mobile Reader) or Access versions (asset details are configured in an Access database on a PC and then synchronised with the Mobile Reader).
5 free format data entry fields included as standard, customised entry screens and data tables to order.
When the person or product (Tag) is within range of the Mobile Reader then the asset details automatically pop to screen (and cycle around if more than one Tag is detected).
Logs date and time stamped Tag identities and database fields to a file which can then be uploaded to a PC for further analyses by third party applications.
Mobile CheckPoint is included with the CodeKits that include the Mobile Reader PDA and is available as an option with Mobile Readers purchased separately.